Eine Lange Nacht über Cole Porter
"I get a kick out of you"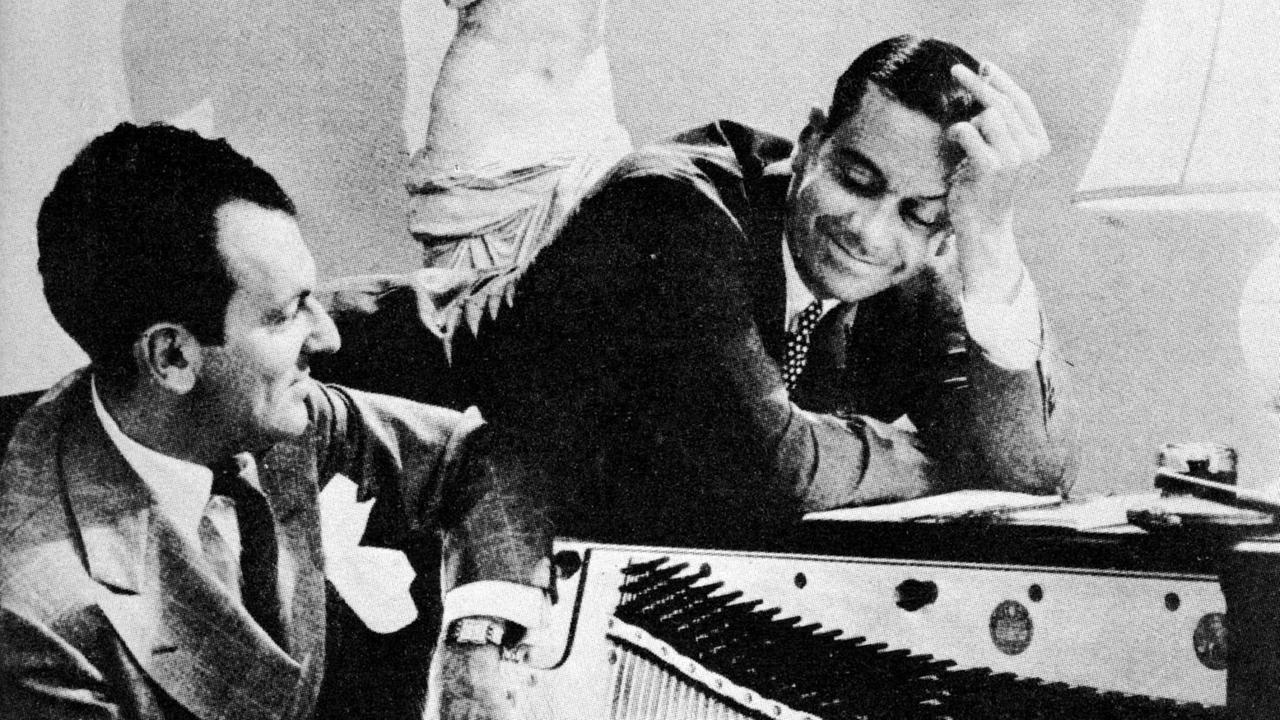 Moss Hart und Cole Porter © imago/United Archives International
Von Anette Selg · 
13.01.2018
Cole Porters Lieder sind Kürzestgeschichten über die Liebe – über Hoffnung und Begehren, Sehnsucht und Verzicht. Viele seiner Songs sind Weltklassiker geworden – in Interpretationen von Ella Fitzgerald oder Hildegard Knef, in Arrangements von Louis Armstrong oder Charlie Parker.
Sie sind intelligent und glänzend an der Oberfläche, darunter aber fast immer von herzzerreißender Melancholie und Schwermut. Die Öffentlichkeit erfuhr lange nichts von der Kunst des amerikanischen Komponisten und Textdichters.
Cole Porter, 1891 als Sohn einer schwerreichen Familie in Indiana geboren, feilte schon als junger Student in Yale und Harvard an seinem Liedrepertoire. Seine Musik spielte er jedoch vor allem bei privaten Anlässen, für seine Freunde. Erst als er über 40 war, kam für den amerikanischen Komponisten der Durchbruch. Ab Anfang der 30er-Jahre feierte fast jedes Jahr ein neues Porter-Musical Premiere am Broadway. Heute werden von seinen vielen Musicals kaum noch eine Handvoll aufgeführt. Und seine Lieder sind derart zum Allgemeingut geworden, dass der Urheber dahinter verschwunden ist.
Am 15. Oktober 1964 ist Cole Porter in Kalifornien gestorben. Zu seinem 50. Todestag erinnert diese "Lange Nacht" an die Kunst und an das Leben dieses bedeutenden amerikanischen Komponisten.
Hildegard Knef, Schauspielerin und Sängerin
1955 wird in New York Porters letztes Broadway-Musical aufgeführt: "Silk Stockings" - Seidenstrümpfe. Die Musicalversion des Lubitsch-Filmklassikers "Ninotschka" aus dem Jahr 1939: eine Liebeskomödie über sowjetische Genossen im dekadenten, kapitalistischen Westen. Greta Garbo spielt die Sonderbeauftragte Genossin Ninotschka bei Lubitsch. Bei Cole Porter übernimmt eine junge Deutsche den Part: Hildegard Knef.
"Wie kommt ein Mensch drauf zu singen, wenn er keine Stimme hat. Ich kam gar nicht drauf. Der Cole Porter kam drauf. Der Cole Porter, mit dem ich "Silk stockings" gemacht hatte. Und er hat mich überredet, und er, der große Komponist und Textdichter in Amerika, glaubte daran, dass ich mit dieser stimme, die keine ist, auf einer Bühne singen könne. In einem Theater, das 2000 Plätze hat, nämlich dieses Imperial Theater in New York, ohne Mikrofone. Er gab mir einen Lehrer, der mir eine Atemtechnik beibrachte, die es überhaupt möglich machte, mit meinen sehr kaputten Stimmbändern, die ich immer schon, etwas geschädigte Stimmbänder hatte, zu singen, beziehungsweise, sagen wir, zu rufen."
In ihrer 1970 erschienenen Biografie "Der geschenkte Gaul" erinnert sich die Knef an den großen Komponisten.
"Ziemlich schmal sitzt er im Sessel, gerade und still, als erwarte er die Rüge einer Gouvernante, die Korrektur eines Haltungsfehlers. Cole Porter ist reich, ist erfolgreich. Er zeigt ihn nicht vor, er legt ihn nicht dar, weder den Reichtum noch den Erfolg. Er unterwirft sich den um vieles jüngeren Produzenten, ihren Forderungen, ihren Ansprüchen. Er arbeitet, als stünde täglich aufs neue seine Existenz auf dem Spiel ... Nichts deutet darauf hin, dass "Silk Stockings" seine fünfundzwanzigste Broadway-Show ist, fast jedes seiner Lieder ein Welterfolg. Man schwätzt, er reise nie ohne sein Personal, nie ohne seine seidenen Bettlaken, sein Geschirr, seine Bestecke. Wir wissen, dass er Schmerzen hat, ständig, in dem verletzten, immer wieder operierten Bein. Wir kennen nur den Disziplinierten, Diskreten, dessen einzige Koketterie eine im Knopfloch getragene Nelke zu sein scheint.
Dagmar Manzel, Schauspielerin und Sängerin
An der Berliner Komischen Oper hat Barrie Kosky vor einigen Jahren Cole Porters "Kiss me Kate"inszeniert. In der Hauptrolle: die Schauspielerin und Sängerin Dagmar Manzel.
"Ja, klar, also bei Cole Porter, es ist das Problem, bei Cole Porter sind fast alle Songs schön, also was heißt, sind alle Songs schön. Und es gibt nicht einen Song, wo ich sage, den würde ich nicht singen wollen. Also selbst die Songs, wo die Männer singen, würd ich gerne singen. Das hat eben diese Direktheit von dem Ton, der ist letztendlich ja auch in der Musik. Ob das jetzt der amerikanische Slang ist oder der Berliner Slang, aber es ist Slang, es hat Dreck, es hat ne Direktheit, das macht mir einfach Spaß."
"Und es wurde, eine Tür nach der anderen öffnete sich automatisch, war nur ein Durchrennen durch die Türen, weil so viel mit einem passierte dort. Und Barrie gibt einem so viel Raum, zur Improvisation, und ist dann auch ganz naiv, ganz neugierig und begeistert sich für seine Sänger, Schauspieler, Tänzer, Schauspieler. Er liebt sie auch. Und wenn du geliebt wirst, du verschenkst dich ja. Darum geht es ja letztendlich. Es geht um den Moment in deinem Leben, glücklich zu sein."
Barrie Kosky, Intendant und Chefdramaturg der Komischen Oper, Berlin
Der in Australien geborene Barrie Kosky ist seit 2012 Intendant und Chefregisseur der Berliner Komischen Oper, nach Stationen in Sydney, Melbourne oder Wien. Mit dem amerikanischen Komponisten Cole Porter beschäftigt er sich seit Langem.
"Die besten Cole-Porter-Lieder pendeln immer zwischen Dur und Moll und pendeln immer zwischen Sehnsucht, Melancholie, Liebe und Hoffnung. Und diese unglaubliche Mischung zwischen verschiedenen Emotionen in einer Phrase ist sehr einzigartig. They are so right. Jeder Text hat eine Geschichte, erzählt eine Geschichte. Und jeder Text kommt von so einer unglaublichen Intelligenz, unmöglich zu übersetzen. Der Klang und das Wörterspiel und so weiter. I mean: 'You do that voodoo that you do so well'. I mean, das ist so genial."
"Man denkt auch natürlich, er kämpft natürlich mit seiner Sexualität für sein ganzes Leben, er kämpft mit seinem Körper für sein ganzes Leben. Und er war, ich glaube, am Ende ein einsamer Privatmann. Aber durch seine Musik kommt etwas ganz anderes. Man hat das Gefühl wie ich denke mit allen großen Komponisten. Wie Mozart oder wie Händel, wie Schubert oder Offenbach, dass diese Melodie, es kommt. Es kommt ohne Stress, ohne Druck, ohne schwere Geburt."
William McBrien, Cole Porter, New York 1998.
Cole, hrsg. von Robert Kimball und Brendan Gill, New York 1991.
The Complete Lyrics of Cole Porter, hrsg. von Robert Kimball, mit einem Vorwort von John Updike, New York 1983.
Musik

You do something to me
Frank Sinatra
© Cole Porter
Album: Blue Moon
Universe, world collection, original recordings
UN 1055
Be like the bluebird
Interpret: Cole Porter
Album: "Let's Misbehave!"
A Cole Porter Collection
1927-1940
Nostalgia Naxos
(P) 2001 HNH international ltd.
LC 05537
Oscar Peterson, Let's do it (instrumental)
Oscar Peterson plays Cole Porter
© Cole Porter
Oscar Peterson
the complete songbooks
Barney Kessel - Herb Ellis - ray brown
1951 - 1955
Los Angeles, nov-dec 1952
United archives
UAR 505
Thank you so much, Mrs. Lowsborough-Goodby,
Cole Porter singt und spielt
© Cole Porter
Album: "Let's Misbehave!"
A Cole Porter Collection
1927-1940
Nostalgia Naxos
(P) 2001 HNH international ltd.
LC 05537

Cole Porter singt und spielt
Anything goes
© Cole Porter
"Let's Misbehave!"
A Cole Porter Collection
1927-1940
Nostalgia Naxos
(P) 2001 HNH international ltd.
LC 05537
Erroll Garner
It's alright with me
Live
© Cole Porter
Erroll Garner
Album: "Concert by the sea!
Columbia © 1969 sony music entertainment
LC 0162
Erroll Garner, Piano
Eddie Calhoun, Bass
Denzil Best, Drums
Recorded live in Carmel, California, September 19, 1955
I love Paris
Gesungen von Etta Jones, 4.01
© Cole Porter
Etta jones,
album: don't go to strangers
Etta jones vocal
Frank wess flute, tenor sax
Richard wyands piano
Skeeter best Guitar
George duvivier bass
Roy haynes drums
3 i love paris (Cole porter, Chappell & Co-ASCAP)
recorded by rudy van gelder at van gelder studio, englewood cliffs, new jersey, june 1960, remastering 2006
© 2006, concord music group beverly hills ca. made in eu,
LC I (oder 1) 5025
"Let's misbehave", 2.54
Irving Aaronson and his commanders,
recorded New York 1928
© Cole Porter
Album: "Let's Misbehave!"
A Cole Porter Collection
1927-1940
Nostalgia Naxos
(P) 2001 HNH international ltd.
LC 05537
Fred Astaire
I've got you on my mind
© Cole Porter
1 min instrumental, dann Gesang
Album: Great Recordings From 1926-1941 , Fred Astaire
The Cream Series
Original Release Date: September 24, 1993
Number of Discs: 1
Label: Pearl
ASIN: B000000WZX
From this moment on, 2.18
Peggy Lee
© Cole Porter
Peggy lee
Album: The gold collection
40 classic performances
CD 1
track 10 from this moment on (porter)
(P) 1997 Proper/Retro
under exclusive license from RETRO
in association with the international Jazz & Blues Artists Foundation
Sound Recordings: The museum of old masters
Creative Sounds Inc., Sound Archives
R2CD 40-34/1
Woody Herman and his orchestra
I've got you under my skin
© Cole Porter
Album: Jazz lounge,
zyx music, lc 06350, box 7827-2 © 2008
I've got you under my skin (Cole, porter) copyright control/isrc DE-A31-08-05571
Woody herman & his orchestra

"who wants to be a millionaire"
aus dem Film "High Society"
© Cole Porter
Album: High society
Original soundtrack
Starring grace kelly, frank sinatra, bing crosby
CD 6705, 2008 Delta Music Group
4-10 performed with mgm studio orchestra
Chet Baker
You'd be so nice to come home to
© Cole Porter
Chet baker you'd be so nice to come home to
Aus album: nights in love, 2008 zyx music,
lc 12175
"I'm in love again" (Porter)
Ben Bernie & his orchestra, new york 1927
© Cole Porter
Album: "Let's Misbehave!"
A Cole Porter Collection
1927-1940
Nostalgia Naxos
(P) 2001 HNH international ltd.
LC 05537
everything but the girl
"night and day"
© Cole Porter
Everything but the girl, night and day
Porter + Warner Chappell
© 1982 Cherry Red, (LC 10542)
von Album: kuscheljazz #4
© 2007 sony bmg germany
LC00116
Sony bmg 88697 15020 2
Sammy Davis Jr., 2.25
Easy to Love© Cole Porter
Album: The RatPack
Dean Martin Sammy Davis jr Frank sinatra
2003 disky communication
LC 11957
Artie Shaw, Begin the Beguine
© Cole Porter
Album: Swing
Planet jazz
RCA victor
© 1999 BMG classics
LC 00316
Artie shaw and his orchestra
Ny, july 24, 1938
(Billie holiday, vocals)
Oscar Peterson
I love you, 3.06
© Cole Porter
oscar peterson
Album: the complete songbooks
Barney kessel - herb ellis - ray brown
1951 - 1955
CD 1 OP plays Cole Porter
Track 8 i love you
(oscar peterson ,p - barney kessel, g - ray brown, b
Los angeles, nov-dec 1952
United archives
UAR 505
LC??
Ella Fitzgerald
Get out of Town
© Cole Porter
Ella Fitzgerald, The Cole porter Songbook
Volume One, Track 14
Verve
LC 0383
© 1984
Hildegard Knef singt dt. Version von "Just one of these things"
© Cole PORTER
Hildegard Knef, "Nur das und nicht mehr"
von der CD
"Hildegard Knef singt Cole Porter",
Telefunken
LC 03708
© 2002

"You Do Something To Me" (Porter)
Frank Sinatra
© Cole Porter
Frank sinatra, you do something to me (porter)
Album: blue moon,
Universe, world colletion, original recordings
UN 1055
Musik etwas frei, dann unter O-Ton
Gershwin plays Gershwin
"Rhapsody in Blue" (Gershwin)
von der CD
Gershwin & Porter
Cedar digital remastering
D2CD24
OSCD 224
SUISA
Made in eec, italy by phonocomp SpA
(P) 1993 DEJA2
"Porgy" (Gershwin)
von Billie Holiday
Gershwin & Porter
Cedar digital remastering
D2CD24
OSCD 224
SUISA
Made in eec, italy by phonocomp SpA
(P) 1993 DEJA2

Overture
aus Musical Kiss me Kate (Erstaufführung)
© Cole Porter
Album: Kiss me, Kate
Original recording remastered
Cole Porter, Alfred Drake, Patricia Morison
Sony
1998

Let's do it
Eartha Kitt feat. Henri René and his orchestra
© Cole Porter, Harms inc.
von: kuscheljazz #4
© 2007 sony bmg germany
LC00116
Sony bmg 88697 15020 2
© 1957 bmg music
Hildegard Knef "Sei mal verliebt"
von der CD
hildegard knef singt cole porter,
Telefunken
LC 03708
© 2002
Billie Holiday
neuer Titel: "What ist this thing" (statt "Love for sale")
© Cole Porter
Billie holiday
Album. There ist no greater love
Track 3 what ist this thing
Past perfect
24 carat gold edition
ACUM
20.4230-PP
(P) und © by Trumpets of jericho ltd.
Night and day
Kenny Barron und Stan Getz, 8.16 live, bei 0.23 kleiner Applaus
© Cole Porter
Album: "People Time"
EmArcy
Digitally recorded live on March 3-6, 1991 at the Café Montmartre, Copenhagen.
Mastered at A&M Studios, Hollywood, California
℗&© 1992 PolyGram S.A. France
Made in France by PRS
Label Code: LC 0699

"I get a kick out of you" (Porter), 3.07
Ethel Merman
"Let's misbehave"
A cole porter collection 1927-1940
Nostalgie Naxos
LC 05537
©2001
Ella Fitzgerald sings the cole porter songbook
von der CD
Ella Fitzgerald, The Cole porter Songbook
Volume One, Track 6
Verve
LC 0383
© 1984
oder von Benny Carter
(P) 1953 polygram
album: george gershwin & Cole porter somgbook
Gitanes jazz round midnight
(P) polyGram Records
prod by norman granz
Verve
Hildegard Knef singt die deutsche Version, wie von COLE zitiert ...
Nichts haut mich um - aber du
von der CD
"hildegard knef singt cole porter",
Telefunken
LC 03708
© 2002
Marilyn Monroe, Aufnahme von 1960
My heart belongs to daddy
© Cole Porter
Marilyn monroe , Aufnahme von 1960
My heart belongs to daddy (Porter)
marilyn monroe
my heart belongs to daddy
success label, 1997
track 1 my heart ...
Every Time we say good-bye
Ella Fitzgerald aus dem Song Book
© Cole Porter
von der CD
Ella Fitzgerald, The Cole porter Songbook
Volume One, Track 11
Verve
LC 0383
© 1984
I love you
John Coltrane
© Cole Porter
John coltrane
Mating call 2 i love you (porter)
Original jazz standards zyx music GmbH&co. Kg LC 06350
© 2006 zyx music
Wunderbar
ohne Textpassage am Anfang
aus Musical Kiss me Kate
© Cole Porter
Album: Kiss me, Kate
Original recording remastered
Cole Porter, Alfred Drake, Patricia Morison
Sony
1998

Art Tatum, Just one of these things
Instrumental
Art tatum, feat. Red callender and jo jones
just one of these things, 7.15
Aus:
The great jazz pianists
Original jazz classics
Made in the republic of ireland
(P) fantasy, inc.
OJCP1
Kiss me kate,
kathryn Grayson & Howard Keel
Album Gershwin & Porter
Cedar digital remastering
D2CD24
OSCD 224
SUISA
Made in eec, italy by phonocomp SpA
(P) 1993 DEJA2
So in love
Patricia Morrison, Erstaufführung Kiss me Kate
© Cole porter
Album: Kiss me, Kate
Original recording remastered
Cole Porter, Alfred Drake, Patricia Morison
Sony
1998

hilde knef
It's a chemical reaction, that's all
aus Originalaufführung 1955 silk stockings
© Cole Porter
hilde knef," It's a chemical reaction, that's all" (Porter)
aus originalaufführung 1955 silk stockings
hildegard knef singt cole porter,
Telefunken
LC 03708
© 2002
Hildegard Knef
"Without love"
original broadcast rec. "Silk Stockings" (remastered)
© Cole Porter
hilde knef aus originalaufführung 1955 silk stockings
hildegard knef singt cole porter,
Telefunken
LC 03708
© 2002

"Little one"
Bing Crosby
(Porter)
Musik aus "High society"
22 "Little one" (Porter)
Bing Crosby
High society
Original soundtrack
Starring grace kelly, frank sinatra, bing crosby
CD 6705, 2008 Delta Music Group
performed with mgm studio orchestra

"True love" aus "High Society"
Bing Crosby & Grace Kelly
(Porter)
"True love" (Porter)
Bing Crosby & Grace Kelly
High society
Original soundtrack
Starring grace kelly, frank sinatra, bing crosby
CD 6705, 2008 Delta Music Group
performed with mgm studio orchestra
Ethel Merman
Down in the depths
Aus: "Let's misbehave"
A cole porter collection 1927-1940
Nostalgie Naxos
LC 05537
©2001
oder neuere Version von Lisa Stansfield
Red, hot & blue
A tribute to cole porter
© compilation 1990 by king cole inc., under liecence by chrysalis records, london
ccd 1799 int. Cdp 3217992

Charlie Parker, 3.24
Easy to Love,
Cole Porter Songbook
Charlie parker
The cole porter songbook
Verve
© 1985 polygram records
LC 0383
Ella Fitzgerald
I am in Love
aus dem Songbook
© Cole Porter
von der CD
Ella Fitzgerald, The Cole porter Songbook
Volume One, Track 15
Verve
LC 0383
© 1984
Charlie Parker
In the still of the night
Aus dem Songbook
© Cole Porter
Charlie parker
The cole porter songbook
Verve
© 1985 polygram records
LC 0383
"Now you has Jazz" (Porter)
mit Louis Armstrong et al.
"Now you has Jazz" (Porter)
mit Louis Armstrong et al.
High society
Original soundtrack
Starring grace kelly, frank sinatra, bing crosby
CD 6705, 2008 Delta Music Group
performed with mgm studio orchestra
Hildegard Knef
"Die Herren pfeifen auf Liebe gern" ("Most Gentleman don't like love" (Porter)
Hildegard Knef
"Die Herren pfeifen auf Liebe gern" ("Most Gentleman don't like love" (Porter)
hildegard knef singt cole porter,
Telefunken
LC 03708
© 2002

Hildegard Knef
"Ich bin leider viel zu faul" - "Laziest Gal in Town"
(Porter)
Hildegard Knef
hildegard knef singt cole porter,
Telefunken
LC 03708
© 2002

Dizzy Gillespie
My heart belongs to daddy, 5.59
© Cole Porter
Dizzy gillespie
My heart belongs to daddy
Dizzie gillespie (tp), junio mance (p), Les Spann (g), Sam jones (b), lex humphries (d)
Original rec. Ny feb 17, 1959
(P) polyGram Records
prod by norman granz
george gershwin & Cole porter somgbook
Gitanes jazz round midnight
Verve

Tom Waits
It's all right with me
© Cole Porter
Red, hot & blue
A tribute to cole porter
© compilation 1990 by king cole inc., under liecence by chrysalis records, london
ccd 1799 int. Cdp 3217992
weitere Interpretationen von der CD Red, hot & blue:
"well did you evah", mit Deborah Harry & Iggy Pop
"I love paris", von les negresses vertes

Dee Dee Bridgewater, 14.05
Love for Sale
© Cole Porter
Dee dee bridgewater, vocals and scat
Thierry eliot, piano, organ - ali jackson, drums, percussion - thomas bramerie, double bass
© 2000
Live at Yoshi's
Track 8 love for sale 14.05
Rec. On april 23-25, 1998
universal
Ella live in Berlin
Anything goes
Ella returns to berlin (deutschlandhalle)
Never before released live concert from feb. 11, 1961
(P) polyGram records
LC 0383

"Cotton tail"
Dee dee bridgewater, vocals and scat
Thierry eliot, piano, organ - ali jackson, drums, percussion - thomas bramerie, double bass
© 2000
Live at Yoshi's
Rec. On april 23-25, 1998
universal
Cole Porter singt und spielt
"You're the top"
(Porter)
"Let's Misbehave!"
A Cole Porter Collection
1927-1940
Nostalgia Naxos
(P) 2001 HNH international ltd.
LC 05537